Techmach as a leader in converting industry, has been committed to printing and packaging, labeling industry to provide complete sets of solutions.

The following are application diagrams of the web guiding system, web tension system, corona system in the printing and packaging, labeling industry:
Gravure printing machine:

Label printing machine:

Form printing machine:

Satellite rotary printing press: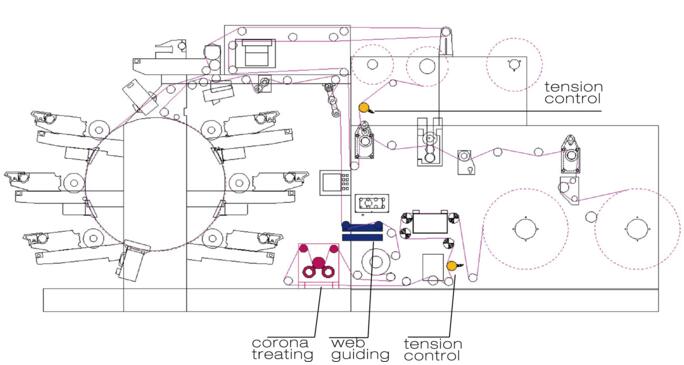 Coater:

Bag making machine:

Slitting machine:
Rewinder: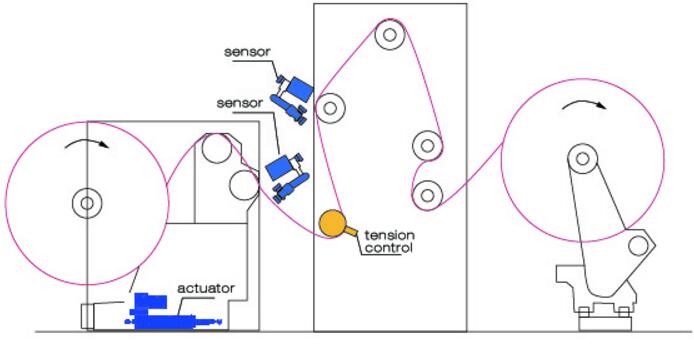 Die-cutting machine: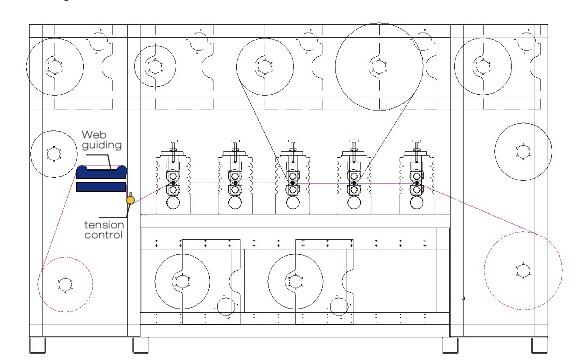 Blown film machine: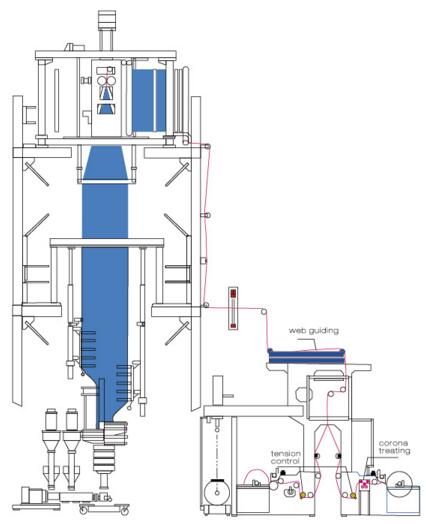 Techmach products, such as web guiding control system, web tension control system, corona treatment system, with its stable quality, high precision, easy operation and other characteristics, are widely used in the above printing and packaging equipment.
1、Web Guiding System:
In response to the low product quality and material wastage encountered in the production of printing and packaging materials, Techmach is dedicated to designing and developing truly innovative and practical web guiding control systems that ensure continuous and precise control of a wide range of strip material, waste and downtime will be kept to a minimum, to ensure the normal operation of the machine, reduce production costs for customers, improve product quality and production efficiency. Techmach web guiding controller is a state-of-the-art technology that provides stable, accurate web guiding performance with a simple, easy-to-use interface. The controller's advanced setup features automatically determine and set the web guiding polarity, web guiding point and system gain. Microcomputer digital and touch controller provides precise control of various functions of the system. The system provides several different detection methods: edge detection, line tracking or center guiding. Depending on the test material, different types of sensors, such as ultrasonic, infrared, and CCD, can be selected. The drive system uses a servo motor drive, the driving stroke is strictly proportional to the offset of the coil to ensure that the whole system is faster and more accurate.
2、Techmach web tension control system
With the continuous improvement of printing speed and precision, the requirements for tension control system are also constantly increasing. Closed-loop automatic tension control is that the tension transducer measures the actual tension of the coil directly, and then the tension data is converted into tension signal back to the tension controller or PLC, by comparing this signal and the controller pre-set tension value, calculates a control signal, the automatic control execution unit makes the actual tension value consistent with the preset tension value, so as to achieve the purpose of tension stability. Techmach tension control systems are used in a wide range of applications in the printing and packaging industry. As the degree of automation increases, the requirements for the precision of web tension control becomes higher and higher, and Techmach has realized the real constant tension control with accurate detection and control system. In the area of tension control, Techmach has extensive experience in tension control with a full range of tension control products, our excellent performance tension controllers, tension transducers, tension indicators, tension signal amplifiers, etc. provide the perfect solution for customers.
Techmach tension control system solves a lot of tension control problems for customers in the coating machine, printing machine, slitting machine, laminating machine and so on, these troubles are mainly in the process of material unwinding, feed traction, discharge traction, material rewinding, the tension in the four sections refers to unwinding tension, traction tension, discharge tension, winding tension. The tension of all four sections are automatically controlled by Techmach tension control system which outputs to variable frequency motors, magnetic powder brakes / clutches, servo motors, etc. Web can achieve stable tension control both at low speed and high speed. In addition, Techmach tension control system can also realize high-speed non-stop roll change and new roll pre-drive functions to better meet the needs of customers.
3、Corona System
Corona processor was born in order to meet the requirements of the printing and packaging industry. Its main role is to improve surface adhesion of the material, remove the burr of the base paper, and improve the ink effect and so on. Due to the characteristics of the material surface, Due to the characteristics of the material surface, the adhesion on the surface of the material is insufficient to meet the requirements of the subsequent process. So the purpose of the corona processor is to solve such problems. After the corona treatment, the material will not suffer deinking, bleaching and other phenomena, and it will also reduce the defective products which are not solid compound or coated due to insufficient surface adhesion. Corona processor has become an indispensable standard equipment for printing and packaging industry. Manufacturers without corona is not a qualified printing business, this is already a fact recognized in the industry. Techmach corona controller adopts the latest international circuit design and first-class components, with a compact, high conversion rate, Stable performance and other advantages. Germany imported IGBT as the conversion core, low heat, stable operation, bringing up to 87% conversion rate, more energy saving. Digital circuits, stable power output, convenient and quick adjustment, built-in multiple safety protection circuit, which can effectively filter a variety of harmonic pulses to adapt to the harsh electricity environment. Compatible with ceramic electrodes, metal electrodes and other electrodes than can meet the different needs of customers.
4、Plasma spraying technology
Plasma spraying technology is a new science and technology, is a new multi-purpose precision spraying method developed after flame spraying, which has the characteristics of dense coating, high bonding strength, ultra-high temperature resistance, anti-corrosion, and less oxidation of spraying materials, is widely used in many industries. Techmach plasma spray technology with a wealth of experience, a large customer base and authoritative science and technology is a comprehensive solution to your specific needs.
Spraying Technology